FOUR REASONS TO GET A SHOWER DOOR WATER REPELLENT COATING
A high-quality, shower door water repellent coating makes the water bead and run off your shower door, which is great in itself. Still, if you take a wider perspective of what this does for you, it's even more clear that a water-repellent treatment is a good idea.
Here are four (4) great reasons to treat and protect your shower doors.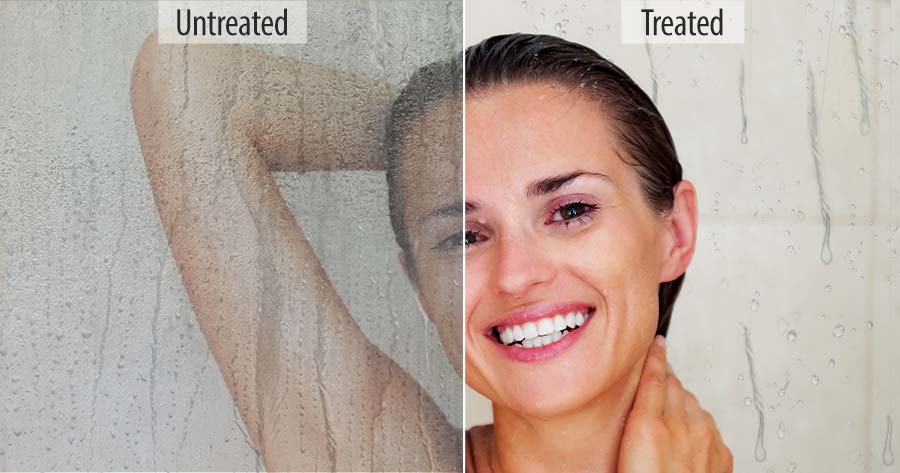 1. PREVENTS STAINS, CORROSION, AND ETCHING
Diamond Fusion easyClean glass treatment is a water repellent coating for glass shower doors, and as such it keeps all of the residue that comes from repeated water use from damaging your door. This shower door water-repellent spray is made to be a shield between the glass and the water, ensuring that the glass will stay free from stains like calcium build-up and hard water stains.
Over time, this can corrode the glass, leaving not only a rough texture to the glass, which creates a hazy look to otherwise clear glass, but it can cause etching, giving it an overall poor appearance.
Diamond Fusion easyClean is the best shower door water repellent system, and can be applied directly to the glass during the manufacturing process, or when the shower is installed. Diamond Fusion easyClean is the only true lifetime glass protection.
2. GOOD FOR THE ENVIRONMENT
Our shower door water-repellent coating reviews show that no cleaners are needed when cleaning your shower glass. So, you won't be using harsh chemicals that wash down the drain and into the water system, which is bad for the environment. As a much better alternative, Diamond Fusion easyClean is an eco-friendly product, and is made according to best practices and rigorous safety standards.
Fewer cleaning products and cleaners for your shower glass means that no harsh chemicals will be entering the watershed.
3. CUTS CLEANING TIME BY UP TO 90%
Homeowners who have their glass treated with this water-repellent spray for shower doors have reported up to 90% reduction in cleaning time. This is because they're not constantly cleaning the mineral deposits left behind by hard water, the mildew in corners, and the constant water spots that appear to cloud up your pristine shower glass. So, this way, you won't spend all your time cleaning and instead spend more time enjoying the cleanliness.
Diamond Fusion easyClean water-repellent coating prevents hard water stains and water deposits, and the fact that you're not always washing it means you won't find soap scum on the glass doors. You may find that simply rubbing the doors down with a microfiber cloth will take care of almost all your cleaning issues.
4. KEEPS GLASS CLEANER
This goes back to the points that we made above, but your glass will just naturally be cleaner. You won't be cleaning more, simply because you won't have to worry about it. It won't be a part of your routine because shower doors with Diamond Fusion easyClean can always look sparkling clean, just like the day you moved in.
Looking for Glass Cleaning Products?
DFI offers professional glass cleaning products that can remove the toughest shower door stains.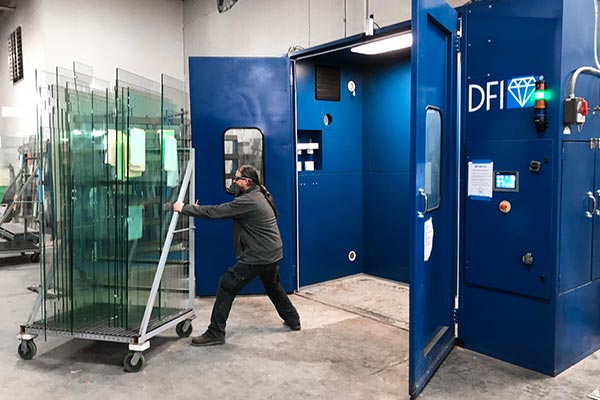 About Diamon-Fusion International
Diamon-Fusion International (DFI) is one of the largest hydrophobic coating suppliers in the world. The company specializes in the development of easy-to-clean, protective coatings, restoration products, and automated machinery for the glass industry, as well as other silica-based surfaces.