WHAT IS WINDSHIELD WATER-REPELLENT COATING?
Windshield treatment is designed to improve visibility while driving in inclement wet weather. This easy-to-apply glass water-repellent gives the windshield hydrophobic properties, creating a water beading effect when in contact with moisture. This bonding process provides another layer of protection to your windshield, which makes driving in the rain and other wet weather conditions easier to handle.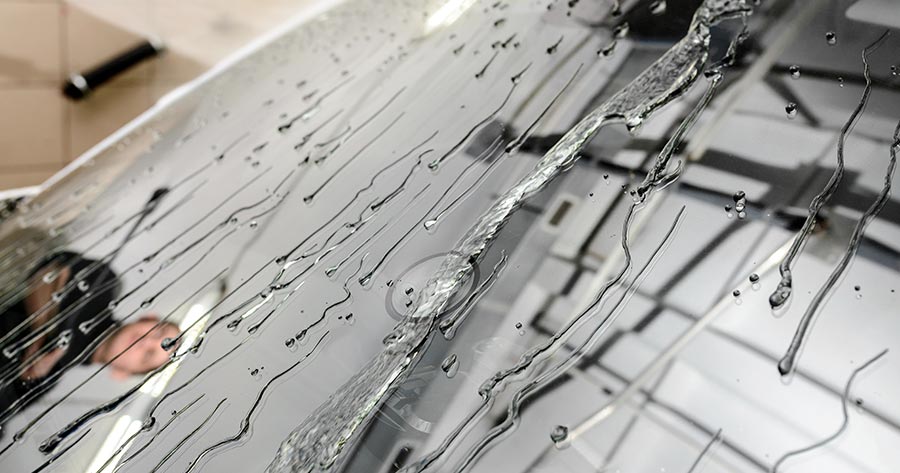 IS WINDSHIELD WATER-REPELLENT WORTH IT?
Are you interested in windshield water-repellent, but you're not sure if it's worth the investment? Having glass sealant window treatment comes with many perks. Those include:
Increased visibility. The biggest benefit of adding water repellent coating to your car windshield is the improved visibility while driving. Whether you're in a torrential downpour or getting a car wash, this treatment will repel water and make your driving experience easier.
Improved longevity of your windshield wipers. This glass treatment adds a protective layer to your windshield, keeping it clear of dirt and debris buildup. This can ultimately make your windshield wipers last longer.
Enhanced bug and debris removal. This extra layer of protective coating means less bug and debris buildup.
WHERE TO GET THE BEST WINDSHIELD WATER-REPELLENT
Whether you're in the business of selling cars, in the process of buying one yourself, or just want better vision in the car you already have, investing in a high quality windshield water-repellent is worth the consideration. Diamond Fusion Glass Defender provides ultra-thin protective coating for windshields that can turn any ordinary car into a high-performing vehicle. Some of the benefits of our windshield protection include:
Repels dirt, rain, and oil
Protects against chipping
Extends driver reaction time
Improves road visibility
Reduces nighttime glare
And more.
With Diamond Fusion protective coating, you can say goodbye to rainwater and environmental pollutants and hello to clarity. Please contact us on 0800 66 72 78, email us at sales@diamondfusion.co.nz, or fill in our contact form and someone will get in touch as soon as they can.